May I introduce you to Henkelmann – a heavily modded Dolch PAC 486 "portable computer".
'Henkelmann' is post-war German miner jargon for a lunch pail – today it is still often used for "anything big with a handle"… and for todays MacBook Air standards the Dolch is quite big. Back in 1998 is was a 32-bit power house…
In 2008 I wanted a system with full-size ISA slots (mind Transputer or i860 cards) but a bit speedier than a 25MHz 80486, more flexible and silent (as with some others of my systems) I had to change some bits and pieces. Well, in the end nearly everything was modified. In short:
Swapped the tiny 10″ 640×480 for an 12″ 800×600 display
…which required a new display controller – PCI only
…which required a new motherboard
…which made larger IDE drives, CD-ROM and USB possible
…which required internal space and connectors
all of which required proper cooling or something more power efficient.
Before I go into details, let's have a quick glimpse: From the front, it still looks pretty original (besides the glossy screen):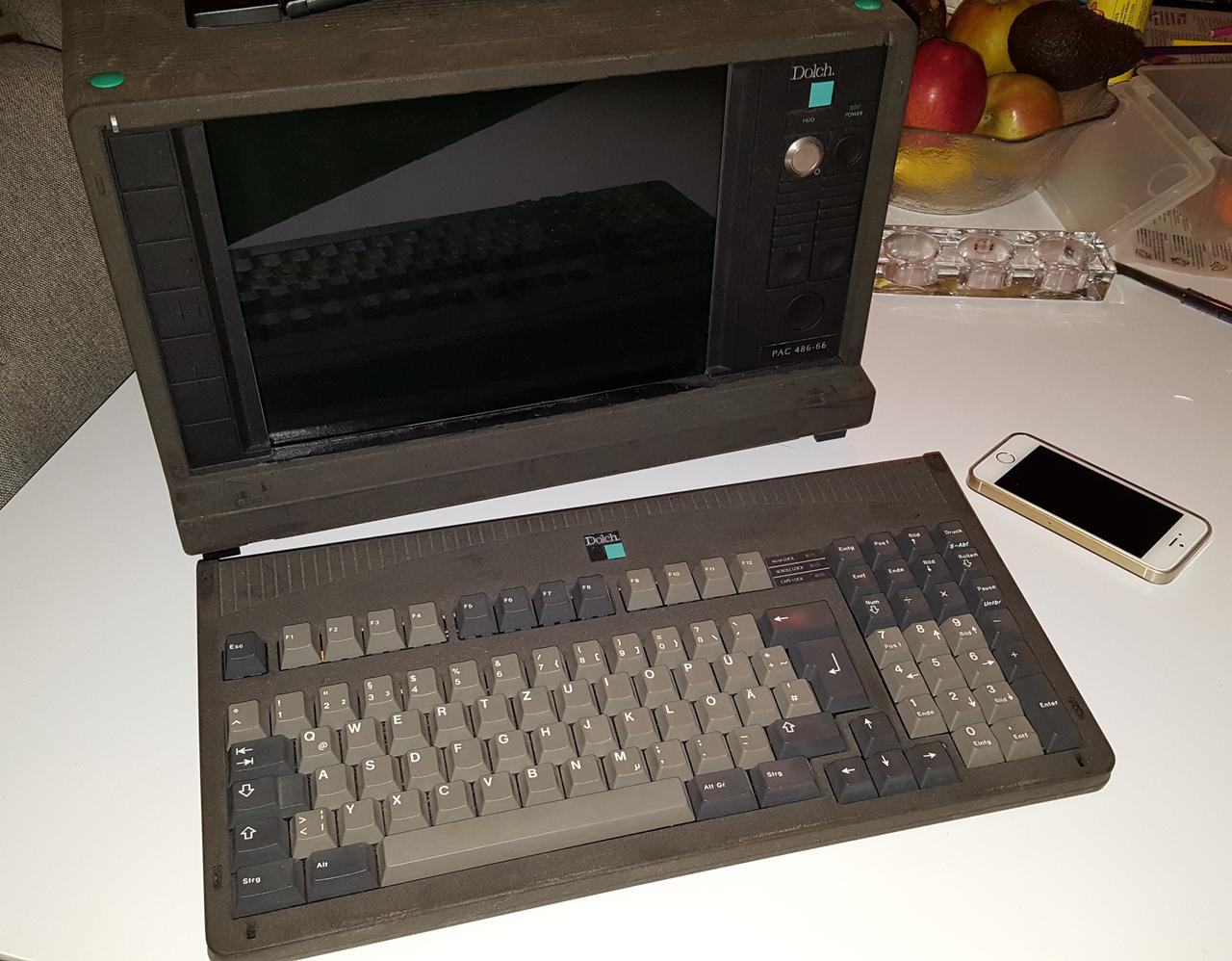 The screen
Well, from the moment I've opened the 'box' by removing the keyboard from the front it became clear that I have to change the small 10″ display which was just OK with its 640×480 resolution to be used with DOS but using Windows was out of question. The original system used an ISA graphics card to control the TFT display – these cards are mostly dedicated to a specific kind of display. So both had to go… and I was able to find a new combo at ePay. Being more modern, the new controller card was a PCI card. But that was totally fine as I was going to change the main-board anyways.
As the new screen was somewhat higher than the old one I had to do some sawing and cutting – so most of the side-panels were removed and luckily the hight perfectly fits between the upper and lower outer-edge, so just about 5mm of the very thick plastic had to be cut out there. The cut edges turned white, so I had to do some (bad) paint job, too. It's not as bad looking in real than it looks in these pictures: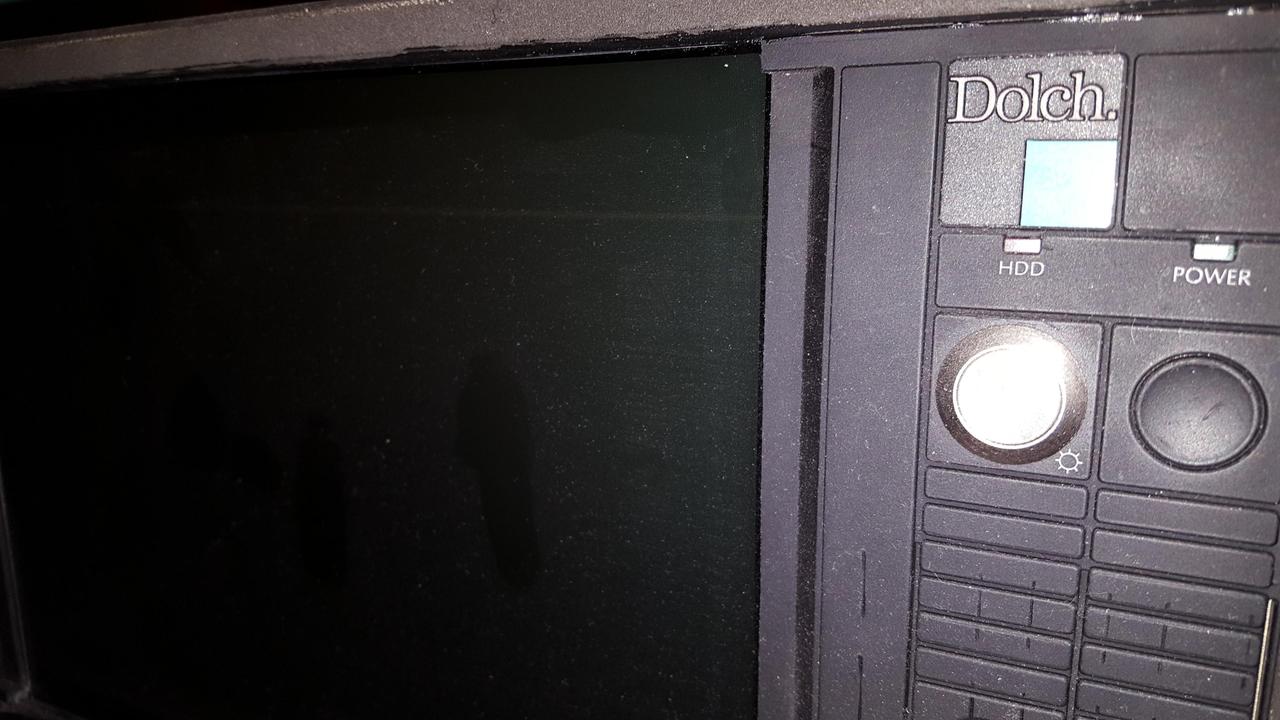 Bottom edge: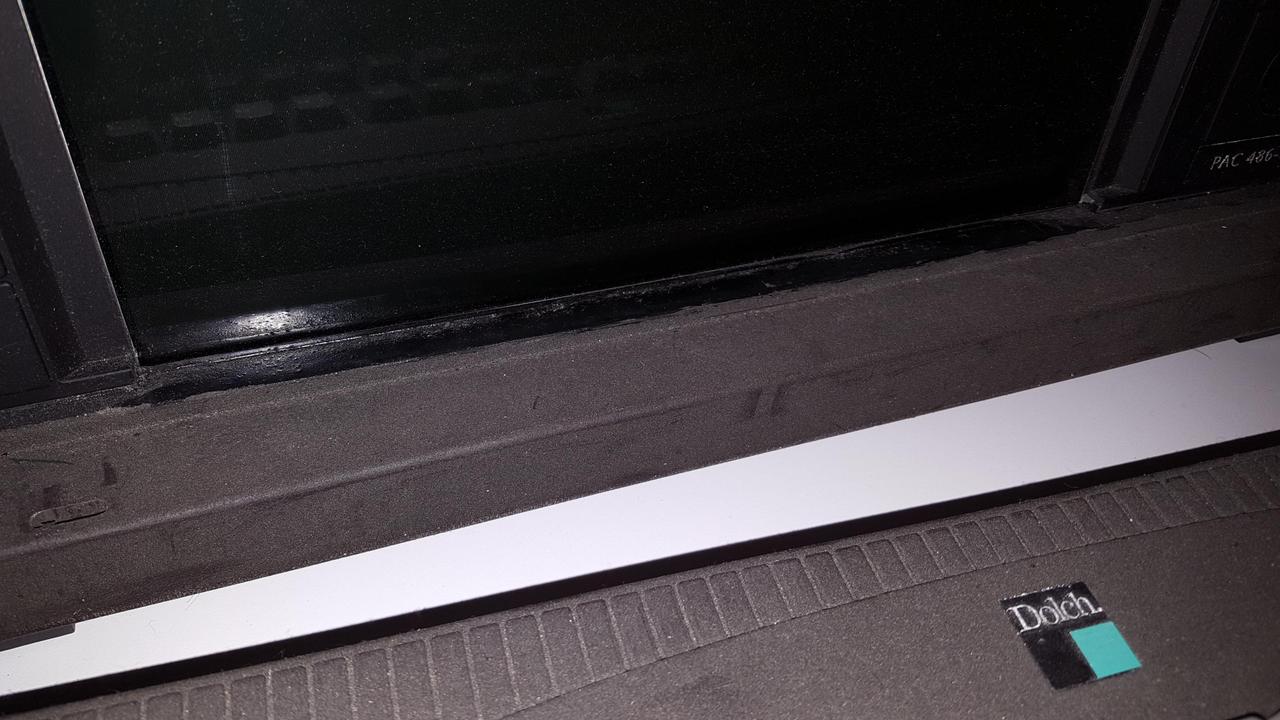 One downside is the fact, that the cables and electronics of the display made it necessary to mount it upside-down – technically that's no issue as there's a solder-jumper on the graphics-card to make it flipping the picture. The bad thing is, that the display has an optimized view-angle for just the other way round 🙁 So looking from top at a steep angle the picture looks inverted – from a frontal view there's no difference, though.
Mainboard
As I wanted the best of both worlds, I needed a baby-AT format for being able to re-use the original case openings (AT-keyboard plug!) but also having as many 'modern features' as possible, e.g. PCI, IDE, USB, etc.
Luckily I've found the DFI K6BV3+/66 which is a Supersocket-7 board in Baby-AT format… how cool is that?!
Because it's a Super-Socket 7 board I hunted for the best CPU available for that socket, the AMD K6-III+, a real beast for its time – which I planned to underclock to 266MHz, because I wanted to cool it passively. Well not completely… while the K6-III has a low heatsink on his top, there's no room left for a fan on top of that.
So there's a small fan on one side of the case (top left corner in the picture below), sucking air in and blowing it over the heat-sink towards the optional ISA cards… not 100% optimal but worked so far.
As the K6BV3+ has just an ATC power-connector a new and preferably smaller power supply had to be found. For that, I had to create a custom mounting using an aluminum angle profile (lower right in the picture below).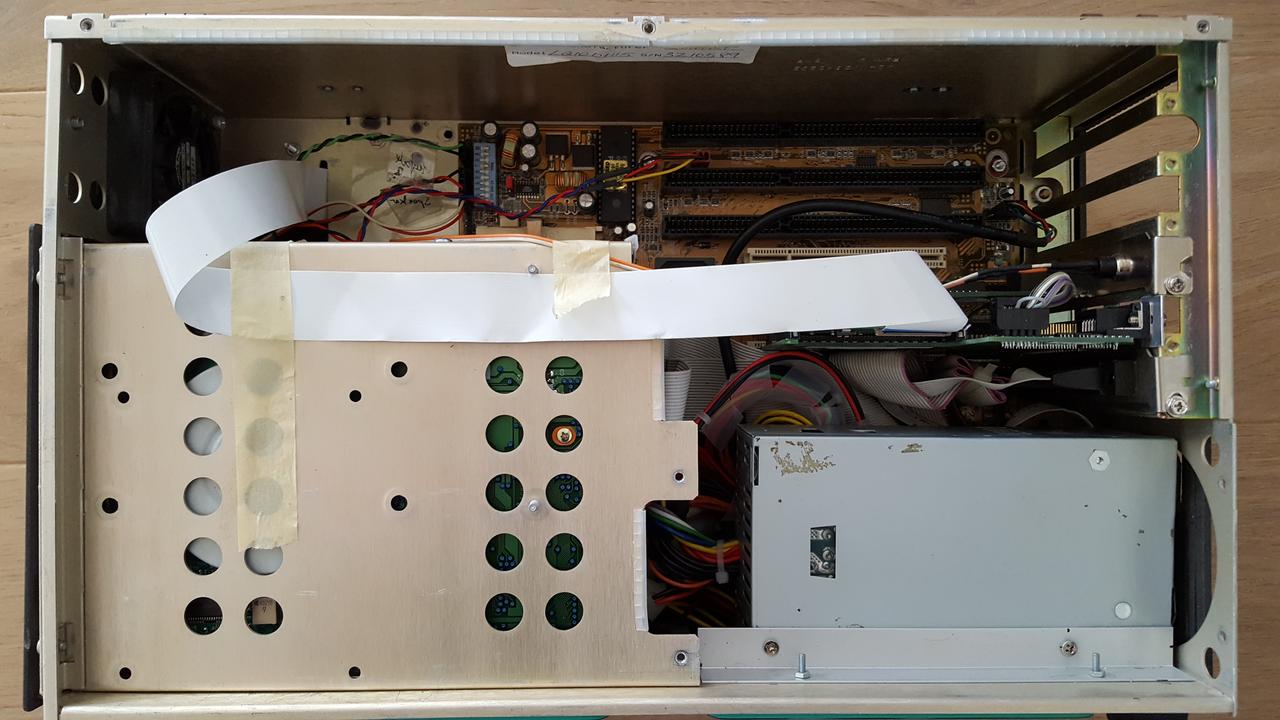 The power-button went into the NIC back-panel and a new cutout for the power cable was needed: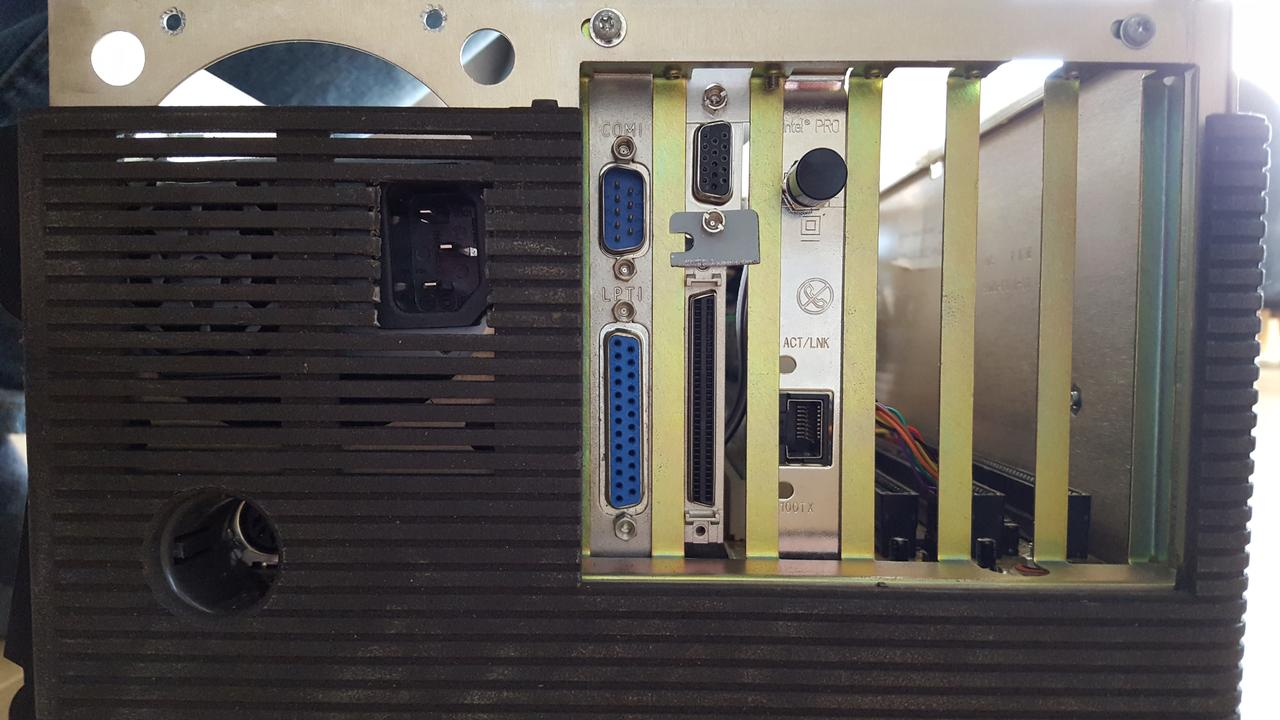 Peripherals and Drives
There are just 2 half-height, 5¼" drive slots in the case available. So careful planning was taken to serve every vintage computing need and this is the rather squeezed result:
5¼" & 3½" floppy-drive combo in slot-1 (Yellow & red arrow)
Slot-in DVD drive (blue)
2.5″ Harddrive (beneath the DVD, green arrow)
2x USB an 1 PS/2 connector (purple & orange)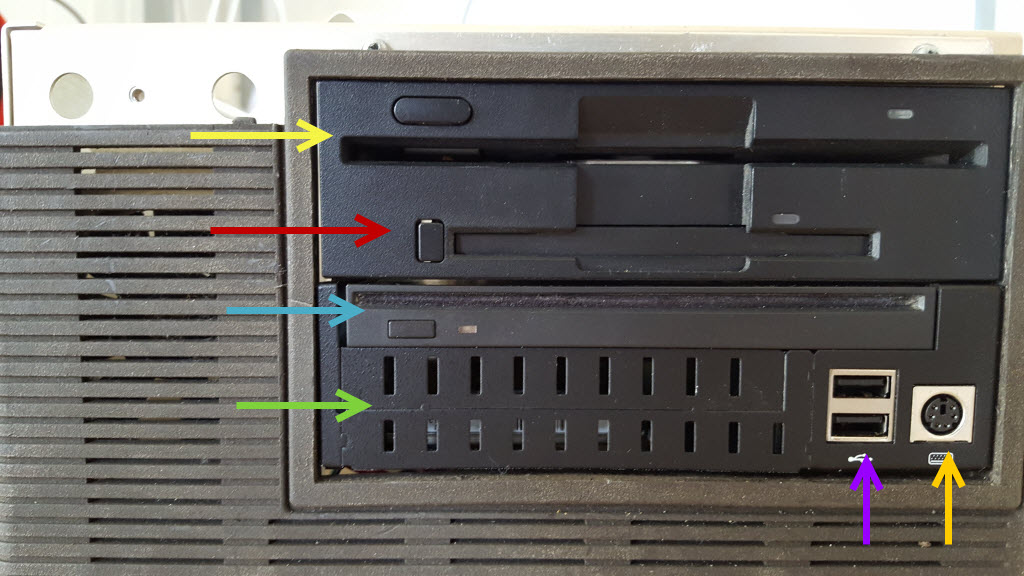 Conclusion
All that effort gave me a portable, well, "luggageable" PC which can read and write most media you need for vintage computing. It's rather fast, nearly silent and most importantly features 2 full-size ISA slots and a shared PCI-slot for more recent stuff.