There was one major german book about transputers called "Das Transputerbuch", written by Uwe Gerlach (ISBN 3-87791-019-X).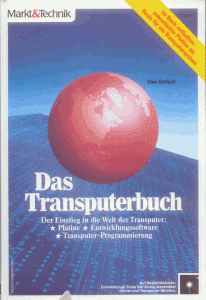 What made this book special was that it included an unpopulated 8-bit ISA card for a transputer and 1MB RAM, fully B004 compatible.
Additionally, there were schematics provided to build a host-adapter for several homecomputers of that time (C64, Apple II, ATARI ST and Commodore Amiga).
I was able to get one book off ePay which was still includung the printed circut board and a 360k floppy containing some sample sources and a rudimentary assembler.
So I've polpulated it, found some mistakes Gerlach made and made it somehow run.
This is how the card looks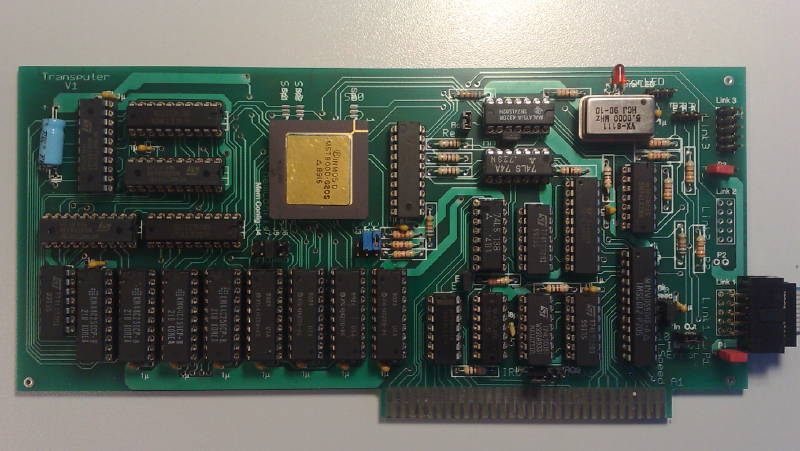 It's design is pretty simple – at least compared to the efforts been taken with the i860 cards on this page. The simple design is also because the Transputer has nearly everything included… so what you see is:
The right half is the ISA-bus and link interface. The rightmost and longest IC is a C012 connecting the 8-Bit ISA bus to link0 of the Transputer. Everything else are buffers & drivers.
The left half is -besides the Transputer itself- just 1MB RAM and some address-logic. The card would also work without having this side populated using the internal 2 or 4k of the Transputer.
C'est ca. As said, prety simple.
The mentioned bugs of the card are:
The orientation of U11 and U12 are wrong on the print on the PCB and in the book, check the photo for them.
There are no holes for the capacitor near to U28, you will have to solder it to the corresponding pins on the back of the PCB.
The crystal oscillator U12 has its pin-1 not-connected, but it is connected to ground on the board. My crystal oscillator didn't generate a clock signal, when pin 1 was connected to GND, although it normally shouldn't matter.
Still, there was a persistent problem with the external 1MB RAM. It was detected by mtest but depending on the Transputer-type used and some randomness, it never was checked as being ok.
Replacing  some capacitors and strengthening some ground traces helped but it's still not clear what the real reason was.
Here's the back of the card – looking like a snake-pit now 😉