Hi! I'll make this short… or at least try to. My name is Axel Muhr.
Born 1970 I'm an fairly old geek compared to todays Web 2.0 standards. Let's say I do remember how to cope with 4k RAM and considered a 174kb 5.25″ Floppy quite a big storage device… not mentioning it's insane speed.
Living in Germany as a 15 year old kid had quite some advantages. Home computers sold like sliced bread so the stores were full of them. And there was CeBit – later becoming the biggest computer show on this planet (And scrapped in 2019 after becoming one of the most boring computer show on this planet).
Naturally I worked in a computer-store for a whopping 5 German Marks an hour (which was about US$2.50 back then) and was happy like a pig – bathing in hardware I was sure that I will never be able to afford.
This is me and my room back in 1985. Just got my shiny new Atari 520ST+ (the one with a whopping 1MB RAM)… in the back, my trusty C64 with it's white 1541 and 1702 monitor are still lingering in envy. Some weeks later they were sold to refinance a second SF314 floppy drive…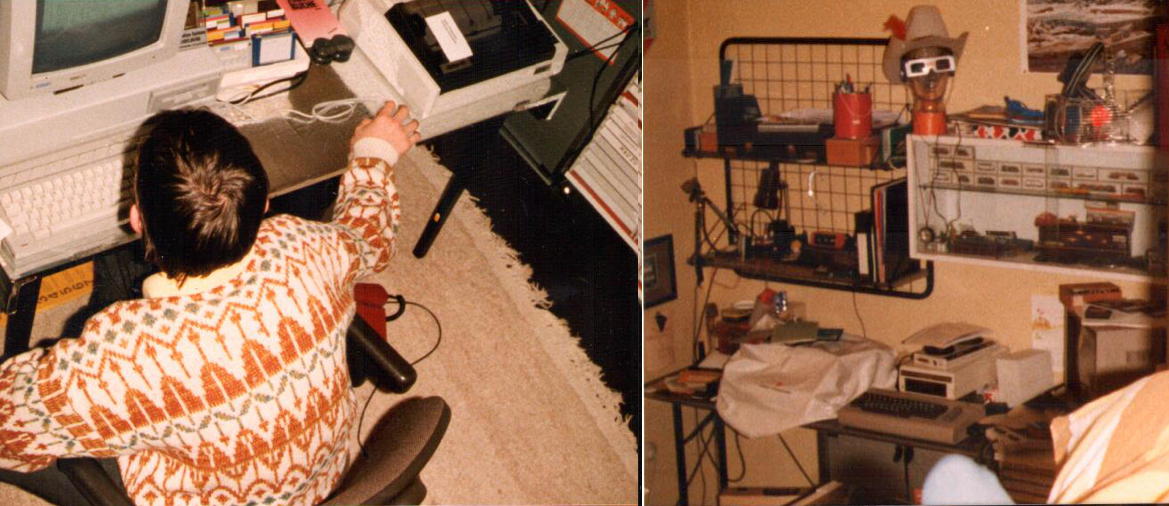 My very personal Christmas was around march, when CeBit was due. On an average I needed 2-3 days to see, touch and smell it all. I drooled over full-color (i.e. about 256 to 1024 colors) pictures in high-res (about 640×400) and was astonished about 3D wire frame models and FPUs. Life couldn't get better than having a 68020 – or 1MB free RAM – a hard drive or a GUI driven system. Wait an SGI would be heaven… no a Mac, an Archimedes, an HP calculator… did you see those new 88k CPU from Motorola? Intel showed a "Cray on a Chip" and…and… and…
From about 2008 I didn't went  to CeBit anymore – 20 years in a row were enough. Who needs cold-ray cathodes in a PC case of which innards are just the same but faster stuff than the year before?
Today I own the stuff mentioned above – bought cheap. I use it. I love it. I make it smoke.
Come join me!
If you like to contact me, just drop me a mail to

Sorry, you have to type that into your mail-client – nobody likes SPAM, so do I.
If you're too lazy, why don't you use this form?